Data from Enterprises Development Department show that last year the private sector contributed up to 43.22 percent gross domestic product and 39 percent investment capital of the economy.

However limited production and trading efficiency has resulted in low profit margin of businesses in this sector. Its revenue growth dropped from 34 percent in 2007-2011 to 10 percent in 2012-2015.
HCMC's economic surveys last year also pointed out that although the number of businesses has quickly developed, most of them are small and medium sized. Of these, super small firms account for 82.76 percent.
Only 64,607 are profitable out of the total of 171,655 businesses operating in HCMC now, making up 37.81 percent; 96,936 are loss making accounting for 56.49 percent. The remaining ones break even.
Dr. Nguyen Dinh Cung, head of Central Institute for Economic Management (CIEM), said that the private sector has not had strong large firms because of a shortage of safety in business operation or risky business environment
Besides normal risks, they have faced risks from the legal system which is unclear, unspecific and untransparent with volatile regulation application. Therefore, many firms have chosen small scale instead of developing into bigger ones to reduce risks from checks and inspections by authorized agencies.
Some businesses want to expand scale but they have been unable to do so because resource allocation has been under "Ask - give" mechanism instead of basing on operation quality and efficiency.
Mr. Tran Van The, deputy chairman of Deo Ca Group, affirmed there are lot of barriers in businesses' investment operations.
Private firms implementing BOT (Build-Operate-Transfer) projects like Deo Ca felt that they have not been treated fairly during the process of working and negotiating with government agencies. Legal documents have showed conflict.
For instance, the Law on Enterprises permits share transfer and capital contribution while Investment Law comprises many complicated regulations in project transfer. State administrative documents have been short of practicality. For instance, a circular on loan policy to BOT projects has been amended four times. The last draft circular is found same with the previous one.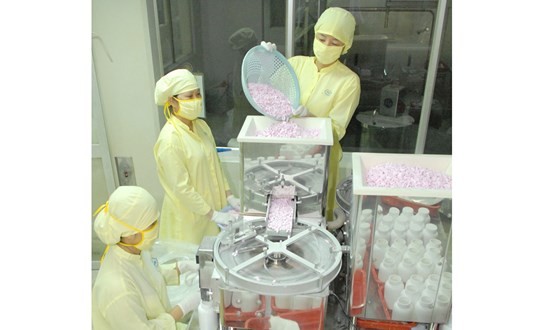 There are not many large Vietnamese enterprises (Photo: SGGP)
Change in thought
Besides unsafe business environment, many opinions say that the market has seen "big fish eat small fish" or big companies put down small ones by cutting contract value without any negotiation.
That is said to be the consequence of business development by movement, shortage of special products and unhealthy competition. Businesses themselves have yet to build associations strong enough to keep their market share and protect their rights.
Dr. Tran Du Lich, member of the Prime Minister's Economic Advisory Group, compared entrepreneurs with seeds in the environment. If the environment is good, the seeds will develop and vice versa.
Besides strengths of being dynamic and enterprising, Vietnamese business people have shown weakness in linking up together.
In the upcoming time, the establishment of value chains for goods and services plays a significant role in businesses' development, Mr. Lich added. A single firm will not be able to develop without connectivity amid the current context of competition and integration.
Mr. Le Tri Thong, director general of Phu Nhuan Jewelry Company, said that compared to five years ago when all resources were for state own enterprises, private firms have received much better policies and many have developed strongly and fast. Still each of them need to have a suitable development strategy to move on. At present, many are operating under out of date growth models.
The important thing is that the Government should ensure fairness and guide buisnesses in international cooperation with a staff of upright civil servants.
Businesses are responsible for together building up a healthy investment environment and having common voice in dialogues about state policies as well as a mechanism in production and trading connectivity, said Mr. Thong.
Talking about business development policies, Dr. Nguyen Dinh Cung, head of Central Institute for Economic Management (CIEM), said that admendments should be from thought not law. That is a basic principle in building institution.
Institutional reform does not comprise only administrative reform because administrative reform is insufficient and not the basic problem of institutional reform. It is needed to take back the community of businesses' belief and words must match actions.
Resolution 24/2026 of the National Assembly also emphasized the necessity of building a transparent, fair and advantageous competitive environment. State management costs and institutional risks need be reduced for busiensses especially private firms.
If businesses make efforts to renew and Government agencies follow the resolution's spirit, businesses' operation will definitely be improved.