The seafood processing business is presently facing an acute shortage of shrimps and currently operating at only 40 percent capacity in the southernmost province of Ca Mau.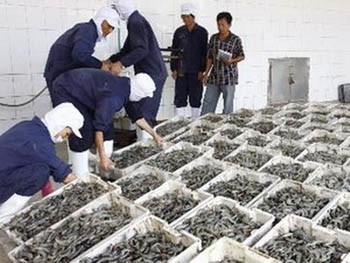 Seafood processing plants face acute shrimp shortage (Photo: VNA)
Ly Van Thuan, general secretary of Seafood Processing and Export Association in the province stated yesterday that processing plants in and outside the province were scrambling to buy more shrimps to meet export targets. Now, this acute shortage has sky-rocketed the price of shrimps by VND60, 000-70,000 a kilogram.
In related news, the Department of Agriculture and Rural Development in the province revealed that the Perkinsus parasite was the cause of the massive dead oyster culch in the province recently. Farmers have now been asked to halt breeding and wind up the present harvest.
Ca Mau Province has so far suffered 413 hectares of dead oyster culch, causing damages of VND30 billion (US$1, 4 million).