As many as 52 countries and territories had new investment projects in Vietnam in the first ten months of this year.

Japan ranked first among foreign investors in Vietnam during the period with a total newly registered and additional capital of over 4.8 billion USD, accounting for 25.2 percent of the country's total registered foreign investment.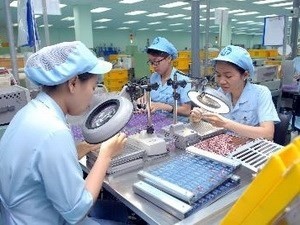 IlIustrative image (Source: VNA)
The Republic of Korea and Singapore were Vietnam's second and third largest investors, with 4.019 billion USD and 3.985 billion USD, respectively.
In general, Vietnam saw strong increases in both number and scale of foreign investment projects, making foreign investment attraction a silver lining in the country's economic panorama.
Vietnam has brought in 19.2 billion USD in foreign direct investment (FDI) in the first 10 months of this year, a whopping 65.5 percent more than last year's figure, according to the General Statistics Office (GSO).
The GSO said around 1,050 new projects had been licensed this year with a registered capital of 13.1 billion USD, up 79 percent from the previous figure, with the remaining 6.1 billion USD in capital coming from existing projects.
Meanwhile, FDI disbursement in the January-October period only rose by 6.4 percent from last year to 9.6 billion USD