Attending the opening ceremony were Minister of Culture, Sports and Tourism Nguyen Ngoc Thien, chairman of the Ho Chi Minh City People's Committee Nguyen Thanh Phong; and representatives of tourism ministries of nations in the region, including Myanmar, Cambodia, Laos and Thailand.

The 3rd Ayeyarwady - Chao Phraya - Mekong Economic Cooperation Strategy (ACMECS) tourism ministerial meeting and the 4th CLMV (Cambodia – Lao PDR – Myanmar – Viet Nam) Tourism Ministers' Meeting also took place on the same day.
Speaking at the event, Minister Nguyen Ngoc Thien highly appreciated the effective tourism cooperation between the countries to the socio-economic development of the region.
Ho Chi Minh City is the largest banking and financial hub in Vietnam, attracting the biggest number of international visitors. The city received more than 2.7 million foreign tourists in the first six months, up 14 percent compared to the last period. The municipal authorities expect to draw about 10 million international travelers in 2017 and turn local tourism into key industry by 2020, chairman Nguyen Thanh Phong said.
The 2017 International Travel Expo- ITE HCMC themed "Your Gateway to Tourism in Asia features 300 display booths of hundreds of local and foreign companies from 23 countries and territories worldwide, such as Australia, China, Germany, India, Brazil, Indonesia.
The event is an opportunity for travel agents, hotels and representatives from tourism promotion agencies to publicize their brands and offer tourist products to local and international travelers.
It also aims to promote potentials, key tourism products and strengthen cooperation among countries in the Mekong River region.
The expo also includes many promotional programs, seminar of Meetings, Incentives, Conference and Exhibitions (MICE), seminar about introducing major tourism markets, Vietnam-Italia tourism discussion.
The organizers hope to attract around 35,000 visitors during the three-day event.
Started in 2005, the ITE has become one of the leading travel events in Vietnam and the region with expanded scale and diversified activities, such as exhibition, meeting between Buyer and Seller and others, promotional programs
The annual event is co-organized by the HCM City People's Committee, the ministry of Culture, Sport and Tourism.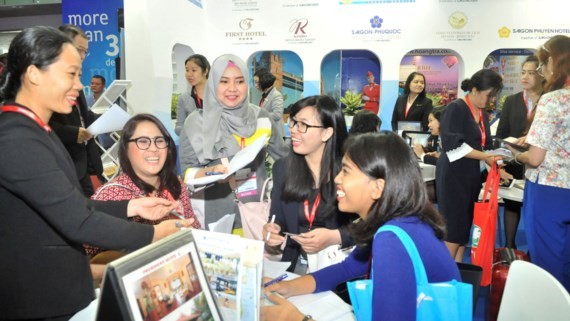 Display booths of travel companies attract many visitors.