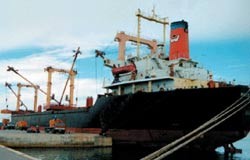 The ship of equipment landed Dung Quat Port.
A ship carrying the first consignment of 1,200 tons of over 350 steel poles imported from Indonesia for an oil refinery project has arrived at the Dung Quat Harbor. The steel poles are 10 to 19 meter long, 610 in diameter and 16 mm thick.
From now to early March this year, two more consignments of 3,300 tons of 1,000 steel stakes will be unloaded at the harbor for the project.
Up to early June, ships carrying project equipment will unload at Station No.1 in Dung Quat Harbor.