The exhibition attracted more than 100 domestic and foreign firms, aiming to showcase, introduce many products, equipment and advanced solutions in the industry of aquaculture, seafood processing, breeder production, etc.
Besides that, this is an opportunity as well as a forum for experts, businesses and aquaculturists to meet, discuss, collaborate and find solutions to develop the fishing industry.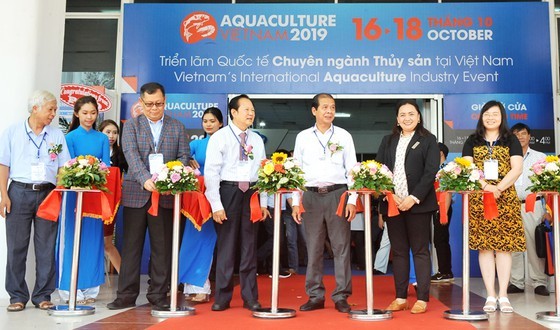 The opening ceremony of Vietnam's International Aquaculture Industry Event 2019
According to foreign fishery experts, with the advantages of geography, environment and human resources, Vietnam has a great potentiality for aquaculture development and export as well as achieving many successes in fishery development over the past years.
However, due to the fierce competition in the international market and the requirements of sustainable development, the aquaculture farmers and businesses needed to constantly improve, innovate the methods of production, processing and raising seafood quality, reduce costs, protect the environment, etc.
The Directorate of Fisheries under the Ministry of Agriculture and Rural Development and the Vietnam Fisheries Association co-organized the opening ceremony of the International Aquaculture Industry Event 2019.

The exhibition is expected to take place until October 18.