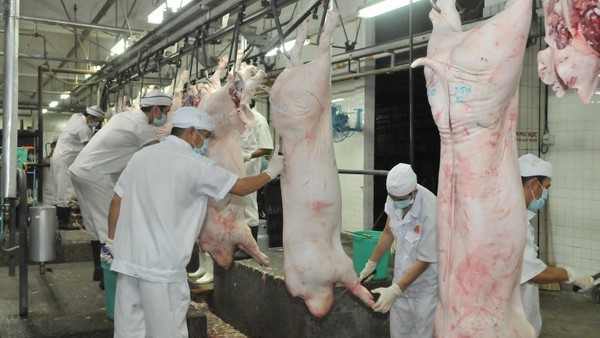 Illustrative photo
Deputy Prime Minister Tran Hong Ha yesterday signed Directive No. 02/CT-TTg of the Prime Minister on strengthening the management and control of animal slaughter to ensure disease safety and food safety.
In the directive, it stated that according to the Ministry of Agriculture and Rural Development's report, roughly 456 animal slaughterhouses have been established in 37 provinces and cities nationwide that have been granted certificates of veterinary hygiene/food safety conditions. However, more than 22,000 small-scale animal slaughterhouses do not meet veterinary hygiene/food safety requirements. Therefore, the control of slaughter has not met the requirements, especially because the risk of slaughtering dead animals, infected animals, spreading diseases and causing food insecurity is very high.
Subsequently, the Prime Minister asked chairpersons of people's committees in provinces and cities to directly direct and encourage organizations and individuals to invest in and build modern animal slaughtering facilities and chains. Moreover, each city and province should have a policy to upgrade slaughterhouses as well as review the network of concentrated animal slaughterhouses in the locality, ensuring veterinary control, preventing the spread of diseases, and ensuring the environment and food safety.
Last but not least, local administrations should develop a roadmap for bringing small animal slaughterhouses into slaughterhouses under the control of local authorities and veterinary authorities for the facilitation of management. The Prime Minister requested to have penalties on slaughterhouses that fail to ensure veterinary hygiene and food safety according to law provisions.
Finally, local governments should annually develop and implement inspection plans for slaughterhouses to ensure conditions of veterinary hygiene, food safety and compliance with the law on the protection of the environment. Plus, administrations should increase inspection and examination, especially paying unscheduled visits to slaughter establishments while promptly dealing with food safety incidents. Furthermore, local authorities should throw a book at violating groups and individuals, and agencies and veterinary staff that are irresponsible in managing animal slaughtering establishments.