Three Australian soldiers will face charges including manslaughter over a raid in Afghanistan that left five children dead, Australia's chief military prosecutor said on Monday.
The court action follows an operation in February last year to clear a compound in Uruzgan province where Australian forces believed a Taliban leader was hiding.
Director of Military Prosecutions Brigadier Lyn McDade said the three "will be charged with various service offences, including manslaughter, dangerous conduct, failing to comply with a lawful general order and prejudicial conduct".
A suspected insurgent was also killed in the night raid, while four people were wounded. Two of the servicemen said they would vigorously fight the charges, which are being laid after an Australian military investigation.
"We will strenuously defend the charges and we look forward to the opportunity of publicly clearing our reputations, as well as the reputation of the Australian Defence Force," they said through their lawyers.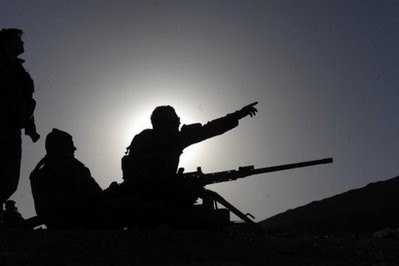 Australian soldiers fix their target prior to practice firing at their forward operating base (FOB) in southern Uruzgan province in January
A defence department spokesman said at least one special operations soldier will face a manslaughter charge, along with a count of dangerous conduct.
Another of the accused has been charged with failing to comply with a lawful order while the charges against the third accused have not yet been released because the soldier is travelling overseas.
Local media earlier said the case stems from a night-time "capture or kill" mission, involving about 30 Australian soldiers, in which troops exchanged fire with an Afghan man.
The man died, as did five children -- including two babies -- after grenades were thrown, while other women and children were injured, the Sydney Morning Herald said.
The paper said no military historians it had contacted could recall a previous case where Australian soldiers had been charged over the deaths of civilians in battle.
The defence department said it would not engage in any commentary on the case, but the two accused protested their innocence, saying their actions were justified under the "truly awful circumstances".
"It should not be forgotten that the casualties were ultimately caused by the callous and reckless act of an insurgent who chose to repeatedly fire upon us at extreme close range from within a room he knew contained women and children," they said in a statement issued through their lawyers.
The military said all three would be supported throughout the trial, which is expected to begin in early 2011.
"Consistent with the presumption of innocence, these members will receive the full support of the Australian Defence Force," Australia's military chief Air Chief Marshal Angus Houston said.
Civilian deaths are a sensitive issue in Afghanistan, where almost 150,000 foreign soldiers from NATO and the United States are battling a Taliban insurgency.
The United Nations reported last month that 1,271 civilians died in violence between January and June this year, with the Taliban responsible for 76 percent of the deaths.
Australian Prime Minister Julia Gillard said the development would not impact Australia's 1,550-strong mission to the Central Asian country where troops are training local soldiers.
Our rules of engagement in Afghanistan and our mission there remain the same," she said.