An excavation of the ancient graveyard of Go De in Pho Tho Province has unearthed two tombs that shed more light on people's spiritual lives long ago and provide strong evidence of Go De being a major center of the Hung Vuong era.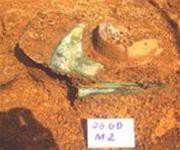 Some precious bronze objects are found
With help from Phu Tho's Department of Culture and Information, experts from the National Archaeology Institute began excavating the substantial graveyard in Thanh Dinh, a village in Lam Thao Ward, earlier this month.
Go De was where many precious bronze objects were discovered in the 1970s, and where the tomb of a Hung King with a pile of spears, tomahawks and other weapons inside was found in 2003.
These latest tombs and their contents are notably dissimilar. One is a jar-shaped coffin measuring 55 centimeters long and 40 centimeters in depth. It is light black and made of raw terracotta.
The most significant feature lies at the bottom, where two bronze spears and a bronze axe were found. They were meant to help the dead person in the next world.
There are no bones in the coffin, which makes it very hard to even speculate if and how the body was wrapped. While of decent size, the coffin is not large enough to fit an adult. And it wasn't a type of urn for holding ashes after cremation because not a single spot of ash has been detected. Was it for bones after reburying? Probably not, since the custom of reburying appeared much later.

The only possibility left is that the jar-shaped coffin belonged to a child. This hypothesis seems to accord with its size, and suggests that the ancient people had a very different view of the after-life compared to later generations: they even gave weapons to their dead children. This phenomenon has been found at other graveyards too, but why there was such a custom is still unknown.
The second coffin, which was found in a hillside tomb, is made of earth. The corpse had been laid out straight, with the head pointing to the north, and adorned with two white pearl earrings. These are rare earrings.
There is a bronze tomahawk on the body's chest. Along the sides there are two tomahawks, a bowl, a pot and a terracotta vase. The most remarkable thing is a group of three spears with beautiful patterns on their blades.
Based on the internal arrangement, this was a coffin for an adult. However it is impossible to say whether the dead person was male or female because both men and women at that time could wear earrings and handle weapons well.
The discovery at Go De tells us that the ancient Vietnamese people used more than one method to wrap dead bodies. By examining the objects found, it seems pretty certain these two tombs were built 2,300 years ago, which coincides with the Hung Vuong era.
Together with Lang Ca (Ca Village), Go De has become the most important archeological dig for learning about the origins of the Vietnamese people.