The Concluding Senior Officials' Meeting (CSOM) plenary session took place at the National Convention Center in Ha Noi on Monday, marking the first day of APEC Week with consensus on all important reports to be submitted to ministers and leaders of the 21 member economies.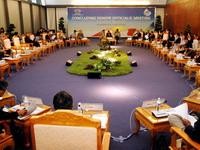 At a CSOM session

Earlier, the senior officials approved Ha Noi Action Plan, Report on APEC reform and another report on the results of APEC counter-terrorism cooperation in 2006 at the informal CSOM session on Sunday.

The two-day meeting, chaired by Viet Nam's Deputy Minister of Foreign Affairs Le Cong Phung, covers a wide range of issues including economics, trade, investment, human security, counter-terrorism, disaster and pandemic management, cultural cooperation, tourism, anti-corruption and APEC reform.

Korea's Ambassador Park Sang-ki was elected to be President of APEC Counter-Terrorism Task Force.

The delegates will attend a reception hosted by Ha Noi People's Committee chairperson in Daewoo Hotel this evening.