Prime Minister Nguyen Tan Dung urged related agencies and ministries to speed up investigation and legal proceedings in eight major corruption cases during the first months of this year
The fight against corruption, negative phenomena and wastefulness has been targeted to be the spearhead duty of Viet Nam Political system in long term, said Prime Minister Nguyen Tan Dung in the central conference in Ha Noi on January 10th.
Speaking at the national conference to review last year's anti-corruption efforts and prepare this year's programme, the Prime Minister asked participants to complete proceedings and announce judgements on eight cases of corruption to the public soon.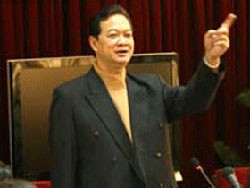 PM Nguyen Tan Dung delivering a speech at the national anti-corruption conference in Hanoi yesterday.
PM Dung said these cases had attracted the special attention of the public and judgements should address people's concerns and the Government Inspectors had to publicize 25 hot cases.
The eight cases include the installation of fake electricity meters by HCM City's power company; the abuse of power by Mac Kim Ton, director of the Education and Training Department in Thai Binh; the bribery scandal in Viet Nam Oil and Gas Corporation; the fraud case involving Nguyen Lam Thai and post and telecommunication units and the illegal selling of garment and textile quotas by the Ministry of Trade, the bribery and corruption concerning Project Management Unit 18 (PMU 18) and the defraudation of Nguyen Duc Chi in Khanh Hoa province.

PM Dung called for the completion of these cases by the end of the first quarter this year.
The Central Steering Committee for Anti-corruption and Prevention was asked to closely co-operate with ministries and localities to set up action plans for fulfilling the tasks of their units.
The steering committee had to inspect and urge sectors and ministries of the government to follow regulations set by the Government action plan for anti-corruption and prevention.
According to the PM, the fight in 2006 has yielded positive results, attracting public belief toward government, as a result of Viet Nam political system effort. On this occasion, the PM also instructed committee to guide provinces in fighting and preventing corruption, implementing the anti-corruption law and decrees and dealing with some corruption cases.
He also noted the necessity of improving transparency in government agencies, strengthening grassroots democracy and improving the supervisory role of fatherland fronts and mass organisations at all levels.
The fight against corruption and wastage had achieved positive results last year with great efforts from the whole political system, and helped in regaining the faith of the people in the Government and State's determination to combat social evils, he said.
The PM also encouraged the effort and responsibility of mass media in detecting and criticizing corruption activities.