The Asian Development Bank (ADB) on Wednesday signed an agreement with the Vietnamese Government providing a US$2 million grant to aid in the reduction of severe malnutrition among poor children in Viet Nam.
The grant, from the bank's Japan Fund for Poverty Reduction, will expand access to fortified complementary foods to about 325,000 rural babies aged 6-24 months.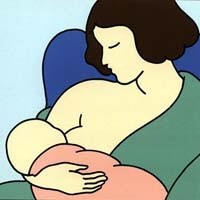 Information on nutrition for nursing mothers is very important.
To achieve this, new, small-scale, semi-automated production facilities will be established in Nam Dinh and Thanh Hoa provinces, while production facilities in Quang Nam and Ha Noi will be expanded.
The production of fortified foods will be supported by new technology and quality control specialists at the National Institute of Nutrition. The Ministry of Health's local food control and health units will also be trained to back the project.
Over the course of three years, the grant will tap community-based channels for distribution, marketing, and nutrition education in six provinces and 60 districts. It will utilize the network of the Viet Nam Women's Union, one of the nation's largest non-government organizations, to educate mothers on improved nutritional practices.

The grant will also develop and test at least three innovative distribution channels (including a food voucher program), with the intent of improving the supply of fortified, complementary foods to the poorest and most vulnerable areas.
Funds will be targeted at 6-24 month old children, who suffer the highest rates of malnutrition in Viet Nam. The prevalence of underweight children in this age category is nearly three times the rate at later ages, the ADB says.
"The consequences of malnutrition in these critical years of growth and development affect children's survival and overall health and have long term implications for themselves and the country as a whole," said Ayumi Konishi, ADB's Country Director for Viet Nam.
He added, "Traditional home-prepared foods in poor areas often have low nutritional value and cannot meet the nutrient needs of vulnerable children. While fortified complementary foods offer an approach to addressing this problem, there is no large-scale domestic production capacity and due to its limited availability and high cost, only 5-10% of children have access to it."
The total cost of the project is estimated at US$2.16 million. The Government and local producers will shoulder the balance of US$160,000.
Related articles
ADB's $45 mln Loan for Forestry, Poverty Reduction in Highlands
ADB Loans $53.2 million to Improve Towns' Water Supply, Sanitation
ADB Announces $1.7 million Grant for Planned Subways