Deputy Prime Minister and Foreign Minister Phạm Bình Binh held talks with Filipino Secretary of Foreign Affairs Jose Almendras in Hà Nội yesterday, during which they reaffirmed the importance of obeying international law and the 1982 United Nations Convention on the Law of the Sea.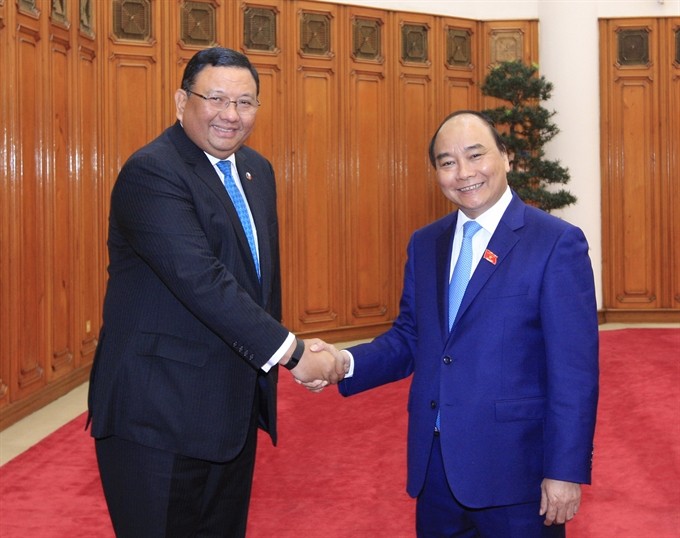 Prime Minister Nguyễn Xuân Phúc (right) receives Philippines' Foreign Minister Jose Rene Almendras in Hà Nội yesterday during his two-day visit to Việt Nam. — VNA/VNS Photo Thống Nhất
They emphasised the need to implement the Declaration on the Conduct of Parties in the East Sea (DOC), step up negotiations to reach a Code of Conduct in the East Sea (COC), avoid actions that complicate the situation and not use or threaten to use violence.
The role of ASEAN in maintaining peace, stability, security, and maritime and navigation safety and freedom in the East Sea is important, they stressed.
The two sides discussed measures to implement the bilateral Strategic Partnership established in November 2015.
To step up co-operation in politics, economics, defence, agriculture, culture and education, they agreed to maintain regular exchanges and carry out existing agreements, including an agreement on maritime and fishery cooperation, an agreement on cultural cooperation and the Việt Nam–Philippines Bilateral Co-operation Committee.
Both host and guest agreed to co-ordinate to organise activities marking the 40th anniversary of bilateral diplomatic ties in 2016 in order to tighten bilateral relations.
They also affirmed to support the Philippines' ASEAN Chairmanship in 2017 and Việt Nam's hosting of APEC 2017, while pledging to work with other ASEAN nations to promote the central role of ASEAN in regional co-operation.
Meeting PM
Earlier yesterday, Prime Minister Nguyễn Xuân Phúc also hosted the visiting Filipino Secretary of Foreign Affairs, during which he asked the two countries' Governments to continue facilitating co-operation between their enterprises.
Economic collaboration is extremely important, the PM said, affirming that Việt Nam would create favourable conditions for Philippine companies in Việt Nam.
On bilateral relations in defence, he suggested the two countries further enhance co-operation.
Welcoming the upcoming visit to Việt Nam by the Secretary of National Defence, the Government leader expressed his hope that through this visit, Việt Nam and the Philippines would co-ordinate to address common challenges relating to maritime security, natural disasters, food security, and the fight against terrorism and cross-border crime.
Regarding co-operation at sea, he requested the two Governments maintain joint co-ordination programmes, strengthen the role of ASEAN in maintaining peace and co-operation in the East Sea, strictly follow the DOC and work closely to complete negotiations on a COC.
The Filipino Secretary stressed the importance of the establishment of the two countries' Strategic Partnership, believing that with joint efforts, bilateral relations would achieve greater accomplishments.
He stated that the Philippines would continue to collaborate with Việt Nam in strengthening of co-ordination programmes at sea.
He proposed the Vietnamese Government co-operate more closely with the Philippine side in carrying out joint action plans, promote people-to-people diplomacy, and intensify connectivity between the two countries' joint committees, particularly in economics, and the rice trade.